Our Services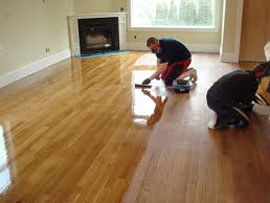 Floor Sanding & Polyurethaning
We offer a 98% dust free floor sanding service for commercial and residential customers.
We sand and polyurethane both old and new floors, even if existing floors have had lino or cork tiles on them.
Staining
Staining is an effect which darkens the timber colour before the polyurethane is applied.
We have a stain swatch with over 30 different colours to choose from.
White Washing/Blonding
A white tint is put in the polyurethane and then applied on the timber producing the same effect as diluted milk poured on the floor.
There are risks of the polyurethane turning pink with colour rich timbers. Speak to our team about these.
Floor Repairs
We can replace just a single damaged board or replace 30sqm of particle board.
Its all in a days work for us.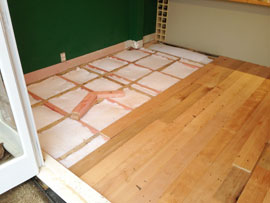 Supply & Laying Floors
Yes we also supply timber including all native timbers and imported timbers.
Laying new hardwood flooring generally occurs on either concrete, particle board or joists. We can lay native timbers, imported timbers or pre-engineered flooring.

Both domestic and commercial customers can be catered for.
Re-Glazing (Maintenance)
A re-glaze is applying another coat of polyurethane to an older floor. While dents and scratches wont be removed it gives the floor a new lease of life.
It is possible to change your current finish to one of the other three options such as gloss, satin or matte with a re-glaze.
Parquet Flooring
Parquet flooring can be tricky business, we have skilled tradesman that can do both repairs, lay new parquet flooring or sand and polyurethane these types of floors.
Parquet flooring generally needs to be sanded in two directions due to the "fingers" not all facing the same direction.
Trowel Filling
Trowel filling is the process of fill all the gaps between the boards.  There are two main risks when trowel filling a floor:
1. The filler can crack and pop out after a few months due to movement in the floor and temperature changes, or,
2. Floor board can crack due to the floor having no "give" when it needs to move.
Floor Sanding in General
The idea that your whole house is going to covered in dust is a common misconception. Our floor sanding teams use quality equipment which produce a minimal amount of dust. Not only do these machines produce very little dust but you will also get a top quality finish.
There will always be a small amount of dust present once the job is completed. We take all measures possible to reduce the dust, from equipment to vacuuming and dusting the affected area afterwards.

If any tradesman tells you that they can eliminate dust completely I would be very skeptical – it just simply is not possible.
The bag that dust is collected in has to have a limited amount of airflow through it due to the vacuum pumping huge amounts of air into the bag along with the dust – for that reason some dust will escape.
Polyurethane Types
Moisture Cured Polyurethane
Moisture-cured (aka. solvent-based or oil-based) polyurethane is the most common product that is used by floor sanding companies. The easiest way to tell whether a solvent-based or water-based product is being applied is if its giving off strong toxic fumes. Water-based products have very little smell so can be easily distinguished.
Generally speaking a solvent-based polyurethane will give your floor a bit more depth, the main reason being is that this product is applied in thicker coats.
You will find that the solvent-based product tends to yellow over a period of time, generally it takes 6 to 18 months to yellow depending on how much sun that area is exposed to.
Below are two examples of how much the polyurethane darkens the floor, along with another picture of the difference between old polyurethane and when the floor is back to bare timber. The lighter coloured areas is actually the original colour of the floor when first finished:
Water-based Polyurethane
Water-based polyurethanes provide a very natural finish that is generally lighter and gives the appearance of natural wood with minimal coating applied. During the application process a water-based product produces almost no fumes.
Waterbased polyurethane comes in two variations: i) residential product and ii) commercial product. The difference between the two product is the commercial waterbased polyurethane has a hardener added into the polyurethane before application.
In our opinion the residential product is inferior and does not wear very well at all and hence we DO NOT apply it. You're going to find it scratches easily shows wear marks in high traffic areas, and all this will mean you're going to have to redo your floors in a couple of years.
The commercial product is on par wearability wise with the moisture cured product, its non-yellowing and produces very little smell. The smell disappears once the product cures which is generally 6 to 8 hours.
We recommend waterbased polyurethane for families with allergies, clients that do not want their floors to yellow off or projects that are short on time.
Polyurethane Finishes
Gloss Finish
Gloss polyurethane brings out the natural warmth of timber floors and give an area a "roominess" feel.
It is a highly reflective finish so be aware that it does show dirt and dust more than a satin or a matte finish.
This finish looks great on darker timber floors.
Satin/Matte Finish
Satin has a noticeably softer look and feel than the traditional gloss finish. We have noticed over the last 12 to 18 months that satin finishes have become increasingly more popular.
Matte is flatter again – giving a very natural look to your floor.
Both of these finishes will help to hide dust and dirt
How Does It Work?
1

Existing Floor Coverings

If any existing floor coverings such as carpet or vinyl are present these are removed.

2

Repairs

If any repairs to floor boards are required these are done next.

3

Punching of Nails

Any nails that protrude above the wooden surface are punched further down, this is to avoid damaging our machinery but also to prevent shiny nail heads showing once the polyurethane is applied. If any filling of nail holes or gaps are required this is also completed during stage 3.

4

Floor Sanding Process

The sanding process starts next – we start with a coarse sandpaper to remove any previous coatings, surface scratches or slight unevenness between floor boards. We work out way through the different grits of sandpaper next to smooth the surface before any staining, blonding or the polyurethane is applied.

5

Staining

If you require your floors to be stained this is the next step.

6

Polyurethaning

Polyurethane is applied next, we always apply a minimum of three coats. Light sanding is carried out between coats one and two providing a flawless finish once the last coat is applied.